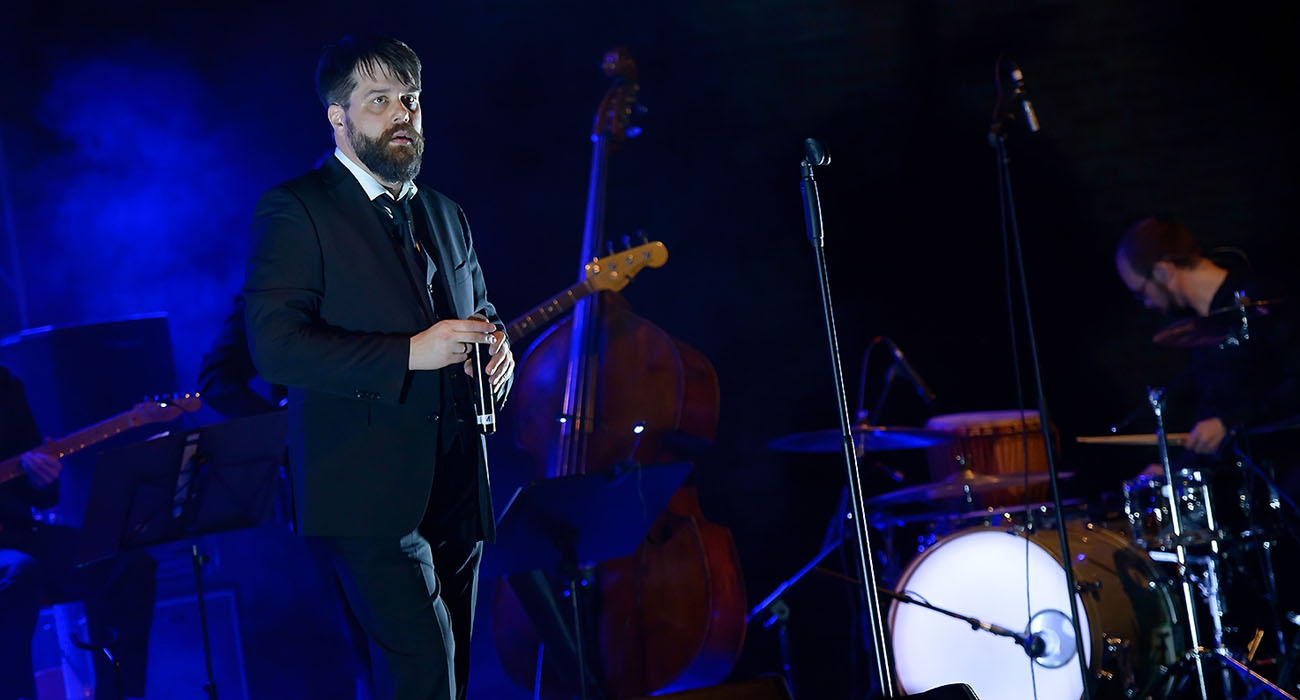 24 Apr

Live Review – Bochum 2015 – Reflections of darkness

JANUS are touring again! And they are celebrating the 20th band jubilee with a special tour. Together with their amazing live band, Toby and RIG are giving four concerts in exclusive German venues. The opening concert was taking place in a sacred surrounding: the Christ church in Bochum.

A legend. A rebellion of old gentlemen? JANUS are celebrating their 20th anniversary. Tobias Hahn (piano) and Dirk "RIG" Riegert (vocals) spent most of that time in hibernation. Then came their uprising, their show at the Amphi Festival 2014 and now: A small, delicate anniversary tour. JANUS live with a program which consists of two program parts: At first JANUS celebrating their very own mix of rock and classic, jazz and gothic with five other musicians. With unusual orchestration: percussion, marimba, cello, clarinet and contrabass. Then: only JANUS which means Tobias at the concert piano, RIG singing (and it is rumoured that there might appear the one or other new composition). It is safe to say that clichés will be avoided. The tour line-up consists of Lothar Weise (drums, percussion), Michael Gambacurta (percussion, vibra-harp), Oliver Lutz (contrabass and e-bass), Daniel Schröder (bass clarinet, clarinet and C flute), Sue Ferres (violin and nyckelharpa), Alex Mennie (concert guitar and e-guitar), Tobias Hahn (concert piano) and RIG (vocals).

Before people could enjoy the first of four jubilee concerts, there was waiting. Doors were scheduled to open at seven, but it was nearly 7:45 when entrance finally started. And so, also the show started with some delay at 20:30. Finally, the sound of the church organ sounded through the speakers, people stopped breathing and finally welcomed the band with huge applause. From the first moment, Toby and RIG together with their fantastic live band put a spell over the audience. It is always a bit hard to say in which genre their music fits as they create an amazing mixture between classical elements, put some tango influences in it as well as Rock elements of the Neue Deutsche Härte genre, underlining the pretentious lyrics in German. The show in Bochum showed various facets of the band. Sometimes the songs were presented with piano only. Others were enriched by violin, guitar of nyckelharpa and finally there were the songs played with full band support. And any different version had its own charm.

The setlist was a wonderful journey through the band's history, including well-known songs link 'Reptil', 'Mein krankes Herz' or 'Isaak', but also presenting a very new song, 'Wehrlos'. Already like at last year's Amphi Festival, RIG hat problems to remember the lyrics of the song and that's why called it 'Alzheimer Version'. Today he was given a text book, but even with this help it went wrong, causing a lot of laughs and jokes. Another highlight of the evening surely was 'Ein Hund, der sich hinlegt, wo er will' when RIG was accompanied by Philipp Bentz on church organ. But if you though the evening would be serious only you are wrong. There were a lot of jokes too. After 'Isaak' and 'Der Flüsterer im Dunkeln', both presented as acoustic version, the band left the stage for the first time. But fans required more with standing ovations. All in all, the band came back for four encore blocs, playing more than 2.5 hours in total. After I was already impressed at least year's Amphi, I today experienced another wonderful performance of high quality in a very special venue.